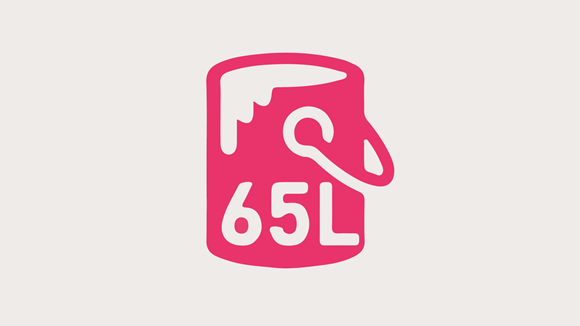 The Epaderm Junior Survey's 'Emollient Equation'
900ml of emollients per month
10.8 litres per year
The average child will have eczema for six years
A staggering 65 litres over the course of childhood eczema!
Only 16% of parents apply emollients multiple times a day, the frequency recommended by the National Eczema Society who advise application should be 'liberal and frequent' . Most UK parents (91%) apply emollient to their child's skin once a day.
However application techniques varied, with more than 1 in 4 parents applying emollient incorrectly, either by rubbing on and working it in until the skin feels dry or just dabbing a small amount on to flare ups. Correct application, as recommended by the National Eczema Society, is to massage in lightly, leaving the skin damp .
"Parents should not be 'rubbing in' emollients, this approach is too abrasive for sensitive, dry eczema-prone skin and could irritate it further,"
explains Dermatology Nurse Karen Pett,
"Parents should also not be just 'dabbing' emollients on flare-ups. This leaves the rest of the skin at risk of dryness, eczema may then flare up in a different area and so the cycle continues."
Dealing with the physical symptoms isn't the only challenge that parents face with eczema. The survey also revealed the emotional effects that eczema can have on day to day life for their child.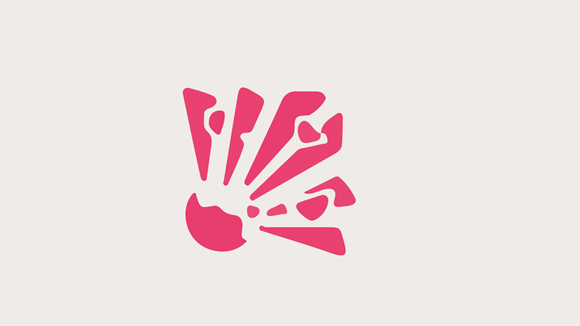 The Emotional impact of Eczema
90% of parents reported eczema impacts their child's day to day life
A third said it affects their child's sleep
Over half of parents report that eczema leaves their child irritable or fed up
40% of parents said that eczema affects the clothes their child can wear
Support for parents
Three quarters of parents said they don't feel very confident about looking after their child's eczema and 94% of parents had sought further advice on managing eczema. Health and parenting forums ranked as the most commonly used online resource (58%), more common than visiting a GP for advice (52%). Around the same number reported they use the NHS Choices website (50%) for eczema guidance.
The majority of parents (57%) of parents wish they had more information on how to look after their child's eczema. The topics which parents said would be most useful were: information on emollient application (38%), bath-time advice (37%) and tips for talking to their child about their eczema (33%).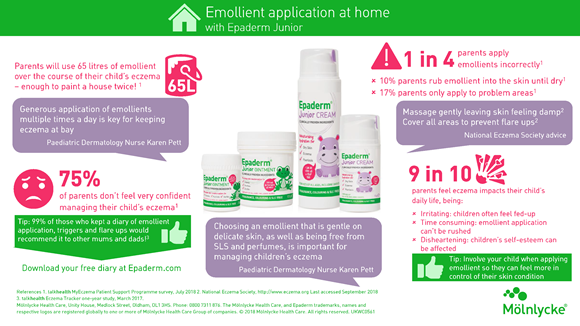 National Eczema Week
See the results
To mark National Eczema Week, Epaderm Junior have created an infographic which gives parents and at-a-glance guide to emollient application
-ENDS-
Contact
Lydia Fisher, Epaderm Press Office
EMAIL: Epaderm@fourhealthcommunications.com
PHONE: +44 20 3761 4494 / +44 7805 933 183
Notes to editors
Exclusive feature content available
Samples for a reader test, review or a competition/promotion
Interview time with a dermatology expert
Interview time with a pharmacist
About Epaderm and Epaderm Junior
Epaderm is an award-winning and highly effective emollient range and is the number one prescribed emollient ointment in the UK. Recommended by doctors, Epaderm has been specially developed by dermatologists for the management of dry skin conditions, including eczema and psoriasis, suitable for all ages, including babies. The Epaderm range is free from fragrances, colouring and sodium lauryl sulphate (SLS) and is a trusted brand for sensitive skin.
The Epaderm Junior range offers complete emollient therapy and includes Epaderm Junior Cream, a 2-in-1 emollient that can be used as a skin moisturiser and a skin cleanser; and Epaderm Junior Ointment a 3-in-1 emollient that can be used as a skin moisturiser, a cleanser, or added to a bath. The lighter cream might be preferred during the day and the heavier ointment at night.